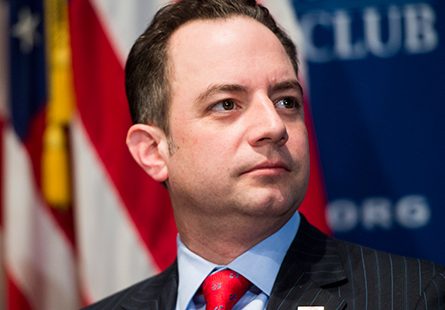 I am a big fan of Reince Priebus. He is good people! Great first big decision Mr. President Elect. Unlike the divisive team the Great Oblaimer put together, this is a start to a team that can work with all people to accomplish goals that will help America.
"Once it was determined he was going to be the winner, he started looking at and thinking about that speech," Priebus said on Fox News of Trump's victory speech on Tuesday. "He said, 'We're going to calm the waters. We're going to bring people together. We're not going to brag.' "
He added that Trump is a "reflective person" and that his public persona at rallies does not represent the complete man.
"The guy in private is the gracious, personable guy that I've gotten to know. … I think that's part of the reason why he won," Priebus said.
Newt Gingrich, a former House speaker who is on Trump's transition team, said the president-elect can work with both sides of the aisle in Congress — something Priebus will no doubt help smooth.
"Trump has got to be the salesman," Gingrich said on CBS's "Face the Nation. "Take something big like infrastructure. He can work with [Senate Democratic leader] Chuck Schumer on infrastructure. He can find a bipartisan path that allows us to dramatically improve infrastructure, something Trump knows an immense amount about."
Do not forget the last time Congress worked well together it was Newt Gingrich and his contract with America that did the work. It is exciting to see the same type of team being built.
LET AMERICA WIN AGAIN!!!!