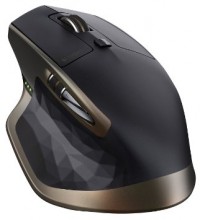 LogiTech MX Master Wireless Mouse
I was looking for a new mouse yesterday, as mine was starting to get jumpy and the center mouse button was not working crisply. I use the center mouse button often for scrolling and the middle click to open links in new tabs. I decided to not go for cheap. I am glad I did not. I have only used this MX Master for a couple hours now but I had to say something about it. It is perfect for my large hands. I will never go back to a cheap mouse again. I use a mouse for many hours in a day and my hand is usually not feeling too well at the end of such days. I think this bad bear is just what my poor thumb has been crying out for. This mouse is amazing… the center scroll is great. Scroll through long documents or web pages faster and easier. The precision wheel auto-shifts from click-to-click to hyper-fast scroll. The middle mouse click is very accurate. It has some other nice features too….  feels very comfortable to rest my thumb on the thumb rest section. Movement is very precise and smooth! See the review I linked below for more information.
Read a nice review about it here:Logitech MX Master Review: The Best Mouse Got Better
I bought mine on Amazon: http://www.amazon.com/Logitech-Master-Wireless-Mouse-910-004337/dp/B00TZR3WRM  It has a decent price tag on it. I paid $78.00.