The day started out with a long distance call from two friends who just happened to be in Istanbul, Turkey. They are missionaries reaching the people of Bulgaria. They took a trip into Turkey to pass out Christian literature. Last year I was able to go to Istanbul and had the opportunity to speak to some Muslims about the Lord.
Went to work and got the office cleaned up, was out on vacation the last week. Saw that it was a beautiful day with blue sky and nice cumulus clouds and thought – "hmmm need to get the boys down to Zoar Valley one more time before summer is over."
So we did just that. Hiked from Valentine's Flat parking lot to Point Peter. This is a awe inspiring lookout point to the Saddle Back at valentine flats.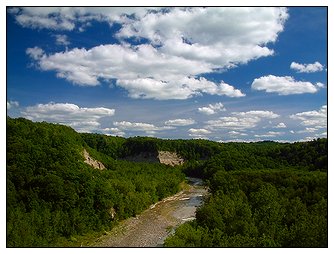 We then kept going left on the ridge to a nice lookout point where there is a memorial to Todd Shea, who must have fell there to his death. The date of his death is on my birthday – January 9th. There is a huge "old growth" grape vine near the place – it is has to be 12 inches in diameter. We then hiked back down the path and to one that leads to the creekside. We took the central path to the creek. It is a beautiful path with some excellent bird viewing. We saw a red tailed hawk within 50 yards perched on a tree. No picture as Frankie spooked it before I could get my camera up. I schooled him on how we need to be quiet when we get an opportunity like that.
Well, we made it down to the creek and I took a bunch of pictures upstream toward the Confluence and Saddleback Ridge. Also pictures downstream toward Point Peter, some came out great.
We then hiked toward the Confluence and turned right going upstream on the South Branch. Around the bend was an old favorite spot, "the Point." It is around 200′ up. I have scaled down the side of the Point numerous times in the past. It is a very difficult climb down – and up, forget about it. Needless to say I was not going to try with my camera equipment and the boys in tow, even though Frankie at age 10 is an excellent climber. Tim is very good to at age 15. Took some good pictures of the Point and then we headed back downstream on the South Branch toward the Confluence.
We crossed over the Main Branch just past the Confluence and went into the wooded terrace to find Buff Falls. It is located on the north canyon wall in the woods about a third of the way downstream between Saddleback Ridge and Point Peter. It was flowing but not much. Took some nice shots and will have to get back after a good rain for better ones. Located some huge "old growth" trees in this terrace.
We crossed back over the creek and headed back up to the Valentine Flat parking lot for the trip home. We were rewarded by the good Lord with a beautiful sunset.
Pictures and write up asap on my Zoar Valley page and Photo Gallery. That reminds me I need to get some pictures up from my trip to Bulgaria and Turkey one of these days.
Yo, anyone out there? 😎